2019 Saint Paul Firefighters MDA Golf Classic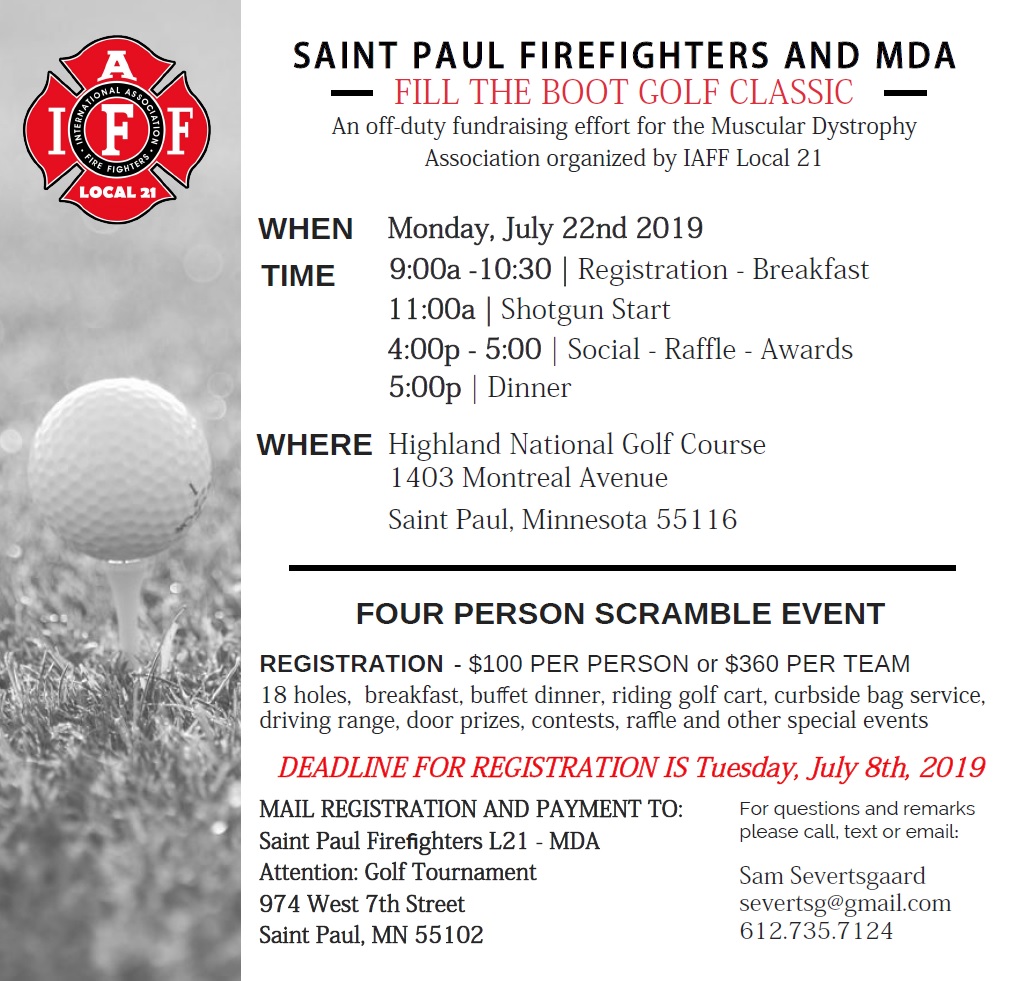 Brothers and Sisters,
We have two upcoming events to support the MDA. June 11th and 18th is the MDA Summer Camp. Those who have been to the MDA's summer camp in the past have seen how much it means to the campers that we come out and help make it a one-of-a-kind experience. It doesn't matter if you can come out for a whole day or just a few hours, your participation will make someone's day more memorable. Last year we had a fantastic turnout, let's do the same this year.
Secondly, the Third Annual Fill the Boot Golf Classic will be held July 22nd at Highland Golf National Golf Course. The golf tournament has raised more than $10,000 each year and played no small part in our Local raising more money than any other local in the 5th District during 2018! We sold out the tournament last year, so, if you want to be sure that you can participate, I strongly encourage registering early.
This year marks 65 years of partnership between the IAFF and MDA. The IAFF has donated over 500 million to the MDA in that time. Since 2015, 6 new drugs that treat neuromuscular diseases have been approved by the FDA. New treatments are having dramatic impacts on the lives of those afflicted with muscular diseases. These advances, and those to come, are made possible because of the work we do. Thank you to all of those who have already volunteered your time this year and to those who will do so in the future.
Please reach out to me with any questions.
Samuel Severtsgaard
IAFF Local 21 MDA Coordinator
612.735.7124
severtsg@gmail.com
Download:

2019 L-21 MDA Golf Classic Registration Form.pdf