IAFF Local 21 Informational Picket - Wednesday, August 2, 2023
Saint Paul Firefighters IAFF Local 21 are working without a contract for over 200 days!
Contact Mayor Carter at 651.266.8510 to ask why he won't pay respectable firefighter wages.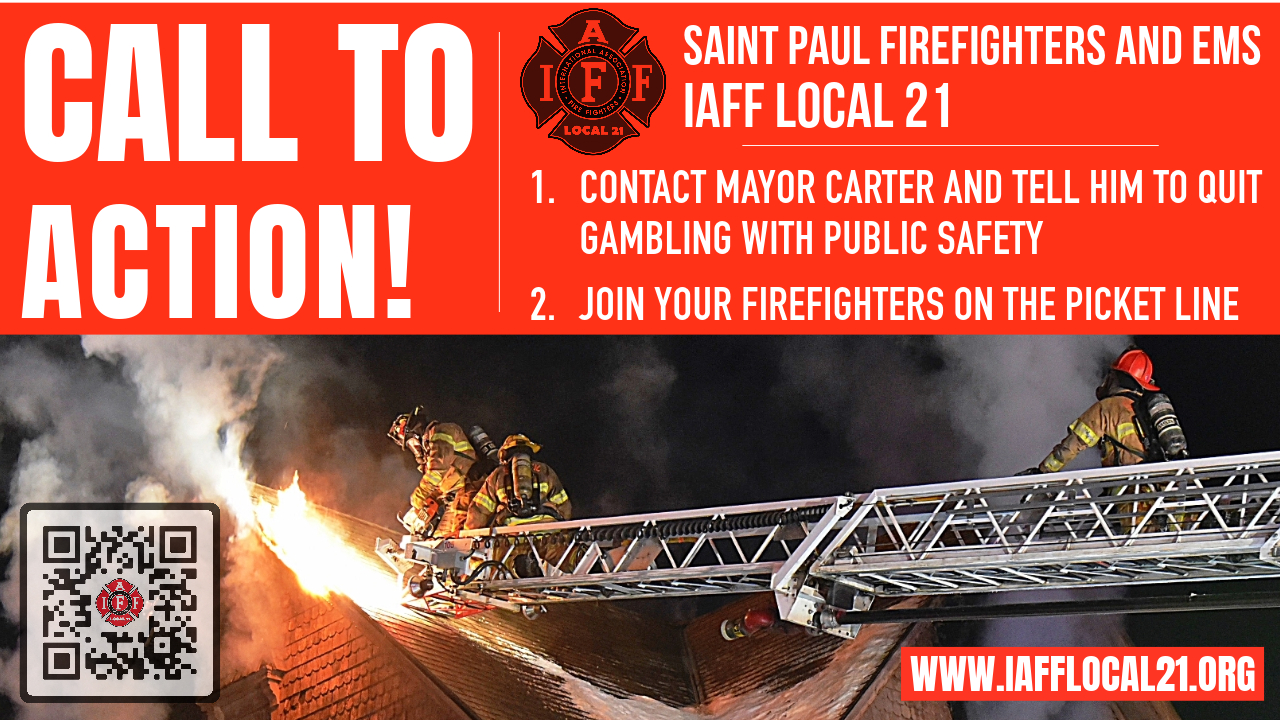 An informational picket is a public demonstration by a labor union for the purpose of informing the public about a matter of concern. Picketing is a way for the union to increase support for action. Only 11 states allow any public employees to strike and most of those impose limits. The most common restriction is a ban on strikes by police and firefighters, and for the perfectly legitimate reason that those walkouts pose an immediate threat to public safety.
Negotiating contracts between public employers and organized employees is a normal practice. The firefighters, paramedics and EMTs that work for the City of Saint Paul were due to negotiate a contract in January 2020. Under Mayor Carter's administration, it took 485 days to settle a two year collective bargaining agreement. They worked all the way through the COVID-19 pandemic and widespread civil unrest without a pay raise. Now, in 2023, Saint Paul firefighters, paramedics and EMTs, are on the same path with no contract for well over 200 days. Many attempts have been made at negotiations and mediation, all resulting in an impasse. Saint Paul Firefighters IAFF Local 21 is asking for respectable contract terms without sacrificing public safety.
Contract negotiations are give and take from both sides of the bargaining table. Many items that the City of Saint Paul is demanding Saint Paul Firefighters IAFF Local 21 forfeit will jeopardize our safety as firefighters, paramedics and EMTs, which in turn can have a trickle down effect on the people that depend on highly trained and professional first responders to show up when they call 911. The Saint Paul Fire Department is experiencing surging call volume and projected that they'll respond to 65,000 calls for service in 2023. Without competitive pay, benefits and additional firefighters, our highly skilled first responders are forced to leave our workplace in search of better paying jobs and to avoid burnout or disabling Post Traumatic Stress Disorder.
Arbitration is a procedure in which a dispute is submitted, by agreement of Saint Paul Firefighters IAFF Local 21 and the City of Saint Paul, to an arbitrator who will make a binding decision on the dispute. In this case, the dispute is over how much the City of Saint Paul is willing to pay their firefighters, paramedics and EMTs. The process is expensive and not necessary. Saint Paul Firefighters IAFF Local 21 has been able to avoid contract arbitration for over 20 years.
We did, too. We even endorsed him for re-election in 2021. Mayor Carter claims to be "labor friendly," but that seems not to be the case anymore. It's obvious that Mayor Carter supports his Fire Department and not the firefighters. What good are fire trucks, ambulances and fire stations if you don't support the people operating them 24 hours a day, 7 days a week, 365 days a year? We've been serving the community every day for the last 168 years.
INFO PICKET: L21 MEMBERS DOs and DON'Ts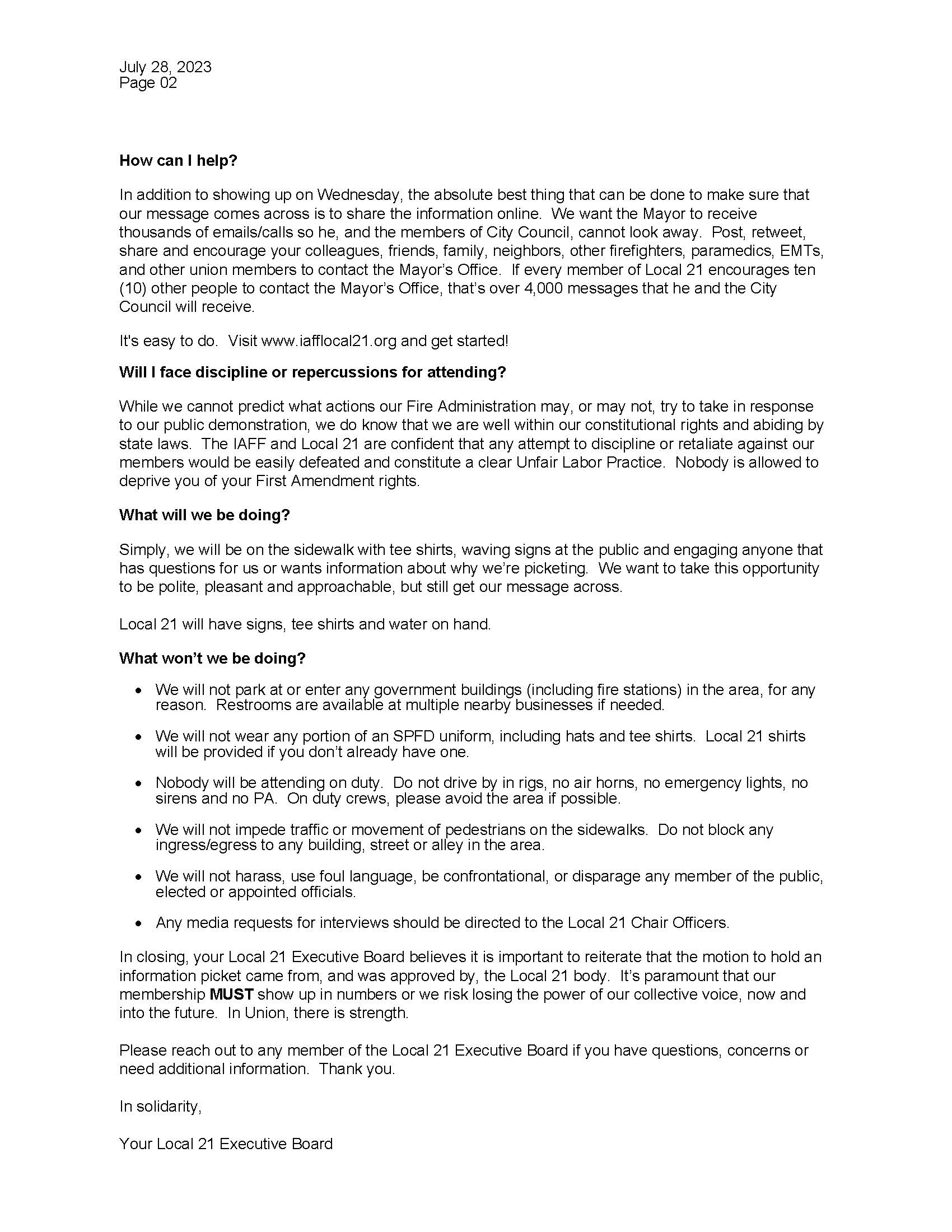 Download:

L21_PICKETCOMMUNICATION.pdf
Page Last Updated: Jul 31, 2023 (08:32:00)